Last Friday, the Smart Health Pilot's plenary event was held at the House of Dutch Provinces in Brussels, in presence of representatives from the pilot's participating regions' ecosystems, as well as selected keynote speakers.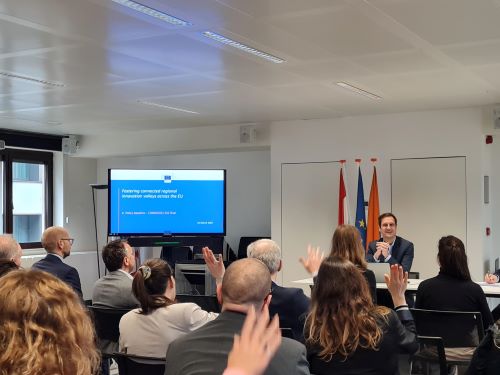 The morning session was the opportunity to learn more about EU level cooperation and funding opportunities, thanks to the presentations of Mr. Patrick Brenier – European Research Area (ERA) and Open science at the DG Research and Innovation of the European Commission – on the forthcoming EU regional innovation valleys funding opportunity and Mr. Bart Haex - Director Business Development & External Relations, EIT Health Belgium-Netherlands – on SME funding  programmes provided by EIT Health community.
Throughout the rest of the day, engaging presentations were delivered by speakers from EU Regions and SMEs to provide updates on the Pilot's regional involvement and demo cases activities. Each session allowed for fruitful discussions between key stakeholders on interregional collaboration in the field of Smart Health and Personalised Medicine.
Thanks to this event, interregional collaboration achievements for innovative technologies in the Health sector were showcased and attendees were able to connect further, paving the way for future collaboration and successes for the Vanguard Initiative regions participating in the Smart Health Pilot.