The Vanguard Initiative (VI) workshop organised in the framework of the European Week of Regions and Cities, provided a valuable opportunity to discuss how European Regions are key drivers in the digital transition. Opened by the welcoming words of Ms. Ana Ramos, Head of Brussels Office of Fundación Galicia Europa the event provided an insight into the importance of regional collaboration at the European level to accelerate the scaling of new technologies, products, and services in the digital field.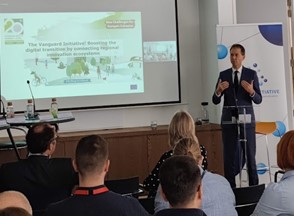 While Mr. Eddy van Hijum, Regional Minister of Province Overijssel and Chair of Vanguard Initiative highlighted, the pivotal role of networks like VI in further developing the EU Innovation Ecosystems, Martijn van Gruijthuijsen, Regional Minister for Economy, Finance, Knowledge and Talent development of Noord-Brabant and Committee of the Regions shadow rapporteur on the EU Chips Act invited all the regions to collaborate and co-develop new value chains to grasp digital opportunities together and strengthen their innovative industries.
Mr. António M. Cunha, President of Norte Portugal Regional Coordination and Development Commission (CCDR-N) complemented such interventions by explaining the relevance of interregional value chains and co-funding interregional innovation projects to support SMEs.
Following the Ministerial interventions, Mr. Michael Berz Project Adviser at the EU and place-based Innovation Ecosystems, European Innovation Council and SMEs Executive Agency (EISMEA) presented the possibilities opened up by the Interregional Innovation Investments (I) Instrument aimed at fostering commercialisation and scaling up of innovation projects.
In the second part of the session, concrete examples of the VI place-based collaboration through its pilot activities were presented. Patricia Argerey Director of the Galician Innovation Agency (GAIN) shared her views on the EDIH challenge for interregional collaboration, and the suitability of the VI ecosystem in this regard, and Gabriela Macoveiu, Director for Communication Innovation and External Cooperation at ADR Nord-Est in North East Romania illustrated how the collaboration within VI can support the implementation of their Regional Smart Specialsation Strategy. Finally, Ms. Maritta Perälä-Heape, Professor of Practice (Ph.D.) at the Centre for Health and Technology of Oulu University presented the Oulu Innovation Alliance an ecosystem between eight regional partner Forganizations to create global added value with digitalisation and outlined the main concrete examples of East and North Finland activities in the framework of the VI Smart Health Pilot.
The presentation shared during the event is available here.